Qaddafi. Vector image of Colonel.
Добавить в закладки
---
Content: 10909112325283.rar (312.09 KB)
Uploaded: 09.09.2011

Positive responses: 3
Negative responses: 0

Sold: 10
Refunds: 0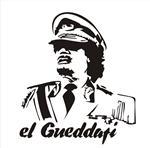 Qaddafi.

Muammar Muhammad bin Abdel Salam Abu Menyar bin Hamid al-Gaddafi.

He Mu´ammar Al-Qaddafi, aka Kadafi, Algathafi, al-Kadhafi, al-Gaddafi, Al Qadafi, Qadhafi, Gueddafi, Gheddafi or El-Gueddafi and others.


Vector image of Colonel. For the manufacture of labels, printing on T-shirts, tattoos and tattoo cars, etc.


Author (my) drawing in a vector. File adapted for cutting on plotter, etc. (The minimum number of grid points, there is no overlapping image elements - a clean stencil tattoo ..)
In the archive:


1. The file format CDR (saved in version 11, for the possibility of opening in later versions)

2. File format EPS

3. File format JPG
26.04.2018 6:12:31
Grat Designer.
20.01.2014 17:55:43
Все отлично!