Купить Skype USD 25 original voucher - Go. on Skype.com
Добавить в закладки
---
Content: text (0 symbol)
Available: 0
Uploaded:

Positive responses: 9
Negative responses: 0

Sold: 103
Refunds: 2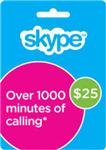 Skype update voucher face value of $ 25 (original code replenishment 25 USD for the site Skype.com)
Sign in to your account
http://www.skype.com/go/myaccount
In the center of the page, click the account you use the voucher.
Enter your voucher you received from us.
After payment you will immediately receive a voucher recharge Skype par value of $ 25.

26.08.2019 10:10:59
ok! thx
31.05.2016 15:43:05
все супер
04.04.2016 11:33:13
удачно!
04.04.2016 11:25:17
оплатил успешно