MAFIA II: DLC Jimmy´s Vendetta (Steam KEY) + GIFT
Добавить в закладки
---
Content: (0 B)
Available: 0
Uploaded:

Positive responses: 4
Negative responses: 0

Sold: 19
Refunds: 0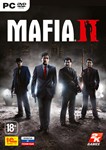 ++++++++
GIFT:
++++++++

Every second buyer (in random order) of all our products leave positive feedback - receive one of the more than 40 different games to Steam. What? This you will find out when you receive your gift in the mail.
It can be activated in the "Steam".

For a gift you must:
1) Buy our game
2) Leave a positive feedback with a comment "I want a gift," and specify it in your E-mail
3) Expect.

Gift Newsletter is done within 48 hours after writing a comment.
Attention!! Gambling Review - You warrant that you have read all the conditions for a gift, and if something is not clear - ask.

***************
Russian language
Platform: PC
Activation: Steam
Region: Russia, CIS

ATTENTION! The key can not be activated in Origin.ATTENTION! To activate the add-in you must have activated the game MAFIA II </ attention>

***************
 
Supplement Jimmy´s Vendetta will offer players a look at the mafia mercenary eyes of Jimmy, one of those guys whose name is "finish the job".
Jimmy´s Vendetta includes dozens of new tense "arcade" urban mission dedicated to racing, shooting and dismantling all over the Empire Bey. As you progress through the player waiting for assassinations and dramatic chase with explosions. Progress of the player is rewarded with points, which are published in a special ranking.This product is distributed through the digital distribution, represents the only pin and does not contain the packages and boxes. </ Delivery>
22.10.2016 11:44:32
Хочу подарок
1don-corleone1@rambler.ru
20.09.2016 0:07:58
Спасибо!
02.09.2016 15:56:05
от души спасибо купил все 6 дополнения хочу подарок