Купить Instagram followers 500 + free 500 photo likes. buy
Добавить в закладки
---
Positive responses: 27
Negative responses: 0

Sold: 179
Refunds: 0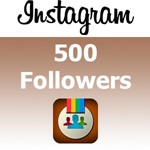 Just for $4.9 you will receive more than 500 Instagram followers + more than 500 likes on your photos.
It´s almost free, because on other sites this service costs more.
Specify a link to your profile in the Instagram and in the near future the order will be executed.
Become popular today.
With the help of this service you will be recognized by thousands of people around the world.
You can successfully promote your business, or just brag to your friends and acquaintances.
Immediately after payment you will receive a form to fill in the registration data, in which you will have to fill out the following fields:
- The e-mail address (email);
- a link to your profile;
08.02.2020 12:08:09
thanks
02.04.2019 4:30:54
Все отлично! Несмотря на то, что я при оформлении кое-что накосячил, услуга оказана в полном объеме. Спасибо!
11.12.2018 21:43:12
Ty, work +800 Followers and 100 Likes * 5 Picture
20.11.2018 1:22:16
I got more 2000 likes! Great seller
10.11.2018 22:55:01
Всё хорошо, подписчики на месте )
24.10.2018 21:12:51
Всё пучком))) Подписота накрутилась (хотя часть из них потом отскакивает, но это вроде как нормально)
Вобщем, можно брать))
13.10.2018 23:28:32
Всё слелано в лучшем виде. Советую!
26.09.2018 3:53:56
Very good !!
02.09.2018 13:51:52
Все прекрасно, спс.